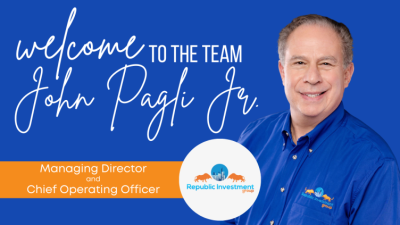 We are pleased to announce that John Michael Pagli, Jr., has joined Republic Investment Group as Managing Director and Chief Operating Officer and a member of the Company's Executive Committee and Strategic Development Committee. John brings a wealth of experience and expertise in the alternative investment industry and will develop and implement strategic global growth initiatives for the Company. He will work closely with our leadership team to identify new opportunities and market trends and lead efforts to expand our reach and increase our market share. John has a proven track record of driving revenue and business growth, and we are confident that he will be a valuable asset to our team.
John is a globally positioned strategic advisor and has been a C-Level strategic business development and operating executive with broad and deep experience of nearly 30 years in alternative financing and investments across the full spectrum of structures and investments ranging from private markets, spanning leveraged finance, structured finance, private equity, mezzanine financing, private debt and credit, infrastructure and project finance, and ESG, impact, and Opportunity Zone investments, to an extensive array of hedge fund strategies.
John has been integral to the development and management of best-in-class alternative financing and investment businesses at all key phases of the business and product life cycles, both organically and strategically, through strategic corporate development, transformation through growth, and enterprise value creation and realization.
He is driven by creative, client-centric, complex problem-solving, drawing on prior experiences in commercial banking, investment banking, and principal investing. John has been a frequent speaker on the international conference circuit and a contributing author to various industry publications.
Over the span of nearly 30 years, John has been working as a strategic advisor and in senior leadership positions in the alternative investment industry, leading strategic global growth, investment, and financing initiatives for growth companies and emerging and specialty hedge fund and private markets asset managers. He embarked on his career in business development in the alternative investment industry in the mid-1990s, leading capital formation, investor relations, new product development, and creating and managing strategic joint ventures and partnerships. John began his career in direct corporate lending with National Westminster Bank USA, assisted in the launch of the North American project finance business of Union Bank of Switzerland, and worked on numerous M&A and corporate finance advisory projects at Merrill Lynch Capital Markets.
John earned an MBA degree with distinction from New York University Stern Graduate School of Business Administration and a BSBA degree, cum laude, from Boston University Questrom School of Business.
We are excited to have John on board and look forward to the contributions he will make to our company. Please join us in welcoming John to the Republic Investment Group team.
---