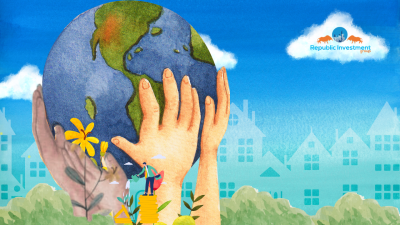 Investor Newsletter, August 2023
Environmental, Social, and Governance ("ESG") and Impact Investing
The Foundation of Republic Investment Group's Business
KEY POINTS
Republic Investment Group, LLC ("RIG", or the Firm), is a mission-driven organization that takes implementation and compliance with its ESG policies and community responsibilities seriously. RIG manages its business and investments based on best practices for ESG with discipline, precision, and transparency to maximize impact for positive change as a business and as an active investor within its markets and communities in which the Firm invests.
The Firm makes a distinction between "ESG" and "impact investing". ESG investing involves considering environmental, social, and governance factors when making investment decisions. In contrast, impact investing goes a step further and is more focused on generating measurable positive social or environmental impacts alongside financial returns. The primary objective of impact investing is to make a difference in specific areas or address social and environmental challenges. To note, RIG will not submit to the temptations of "greenwashing".
RIG adheres to three guiding principles…
Protect our environment for the future generations
Promote a diverse community, which includes workforce, investors, and suppliers
Safeguard investors and de-risk investments through market-leading governance
Aside from the high incidence of greenwashing, a few critical, sobering facts for ESG are…
25% of all carbon immissions come from construction
50% increase in flooding for inland Texas Residents by 2050
20 days in a year, the expected increase in the number of hottest days in Texas by 2050
40% likelihood that Black and Hispanic Texans live in areas with the highest projected increase in temperature-related deaths
50% of the Texas population will be Hispanic/Latino by 2040
Going a bit deeper as relevant to Republic Investment Group's business and investing activities…
Environmental – RIG is a responsible steward of our planet and we exercise this responsibility through our investment approach. The investment team at RIG pursues a sustainable discipline in accomplishing its mission by promoting projects that utilize environmentally friendly materials (insulation, windows, heating, solar, etc.). In addition, RIG is a paper-free and sustainable workplace. RIG is committed to sharing an annual ESG impact scorecard that shows demonstrative impact and progress.
Social – RIG is a minority-owned business with a diverse leadership team. The Firm makes concerted efforts to increase the number of individuals from underrepresented groups. Diversity at RIG comes not only from demographical attributes, specifically race/gender but also diversity in perspective through thought/experiences. The Firm's leadership team also takes pride in working with a diverse/global set of investors and suppliers throughout the community. RIG's core values are guided by, "Fair, Fun, Faith, Fitness, Family, and Financial Freedom". Moreover, the Firm is committed to giving back to the community through various charitable activities. RIG actively supports several non-profit organizations that work towards improving the lives of people in need. The Firm's philanthropic efforts demonstrate its commitment to helping its clients achieve their financial and investment goals while making a positive impact on the community as a whole.
Governance – Since its inception, Governance, and corporate responsibility have underpinned RIG's business and investing activities. The core foundation of the company has been to protect investors and de-risk their investment on a non-leveraged basis, as discussed in, "Non-Leveraged Single-Family Real Estate Investing – A Reliable, Time-Tested, and Timely Risk-Based Approach to Achieving Higher Risk-Adjusted Returns". With 100% equity investment, RIG maintains full control of the assets with no encumbrances from third parties, most significant of which would otherwise be lenders. In addition, RIG is partnered with market-leading financial institutions, in particular Juniper Square, to provide protection and transparency of investments. RIG is also a registered SEC 506(c) investment fund manager, adhering to all SEC regulations and standards.
Impact Investing – Impact investors actively seek out companies, organizations, or projects that are explicitly designed to bring about positive change in areas like renewable energy, affordable housing, healthcare, education, clean water, poverty alleviation, and more. They look for tangible, quantifiable outcomes and aim to contribute to meaningful change. RIG is active in the single-family residential build-to-rent and rehab markets, applying the tools and techniques to make substantive impacts on communities for the ultimate benefit of our investors.
In sum, Republic Investment Group is more than a private equity real estate fund manager. The Firm is committed to investing in impact in its communities through efficient, clean energy, fostering economic development, and diversity of its employee and external contractor bases and through its affiliated charitable foundation, Everlast Life Foundation, providing mission-critical disaster relief assistance to families in need within its communities.
RIG is 100% minority-owned and the executive management team has a diverse background including Asian American, African American, and women professionals.
We welcome your questions, comments, and the opportunity to meet with you to give you a tour of our properties in person or virtually. We accommodate investors seeking to invest in pooled and bespoke vehicles of properties on a deal-by-deal basis.
To learn more about Republic Investment Group's non-leveraged approach to real estate investing, schedule a consultation.
Thank you for your time and consideration. We look forward to working with you.
Sincerely,
John Mathew
Founder, Chief Executive Officer & Chief Investment Officer
---