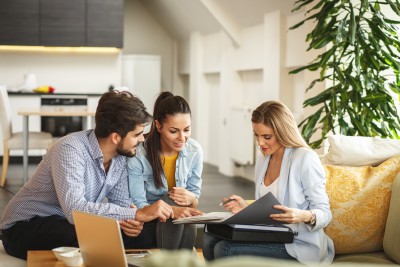 In order to be a successful investor in the long term, one needs to consider all players in the market that contribute to generating profit for every particular kind of investor. A corporate investment opportunity might seem like a safer option to some, while others might prefer lending to borrowers that are not part of the corporate borrowing landscape. There can be numerous reasons for a person to abstain from reaching out to a bank or a conventional institution that offers loans. These reasons vary from borrower to borrower, and each of those borrowers turns to private lenders as an alternate solution.
The idea is to lend your capital to another investor or a real estate fund managed by professionals and secure the said lending amount by a mortgage for the real estate property. Private lending offers any person with a savings account to gain substantial returns on their savings. If kept in a savings account, a person's wealth can only stay secure and not achieve much more than that. Whereas by lending the same money to a private borrower, the wealth can not only multiply, but the real estate put in place of security is worth much more than the loan itself. Which makes private lending an even safer option than becoming a direct owner of real estate property. It averts the risks and increases the profit potential on your investment.
Our company uses the funds from your self-directed IRA or 401(k) to extend loans to borrowers whom we find appropriately qualified. The borrowers we would recommend to you will go through intense scrutiny to make sure that your wealth will be secure with them and would be able to generate a profitable return on your investment.
Your wealth will be practically the most secure if you lend your wealth to a borrower against an asset's value. This form of private lending is the most common among investors. You can choose the borrower as per your liking, depending on the asset they offer as security. Most private lenders would go for an asset that they have experience with, a kind of property whose value they can rely on and whose market ramifications they have experience in.
Private lending has risen to be an essential part of the real estate investment landscape and contributes to the career success of every long term real estate investor, be it directly or indirectly. It has become inevitable to stay oblivious to this side of the real estate landscape for the investors who are on the hunt for better possibilities at all times. The sooner an investor acquires knowledge on the subject of private lending, the more profit might be coming their way in the future.
Private lending is the ideal choice of investment for any investor looking to diversify their portfolio, which can be essential to sustain a long term profit prospect for any investor. Anyone with little to no experience in real estate investment can use the surplus from their income to offer private loans. Retirees who wish to make an investment that could generate a passive income should also consider this option. Either you use your income surplus or your retirement savings, private lending can offer a sizable return to your wealth regardless of the source of the wealth.
To become an independent private lender, one has to establish a business, then acquire insurance, then get muddled with lawyers and establish a corporate rapport and then you might be able to make some profit, but you can skip all those steps and reach out to us directly and become a private lender now!
How to become a private lender?
There are three essential components when it comes to private lending:
1. A lender: any investor looking for an unconventional and safe way to multiply his / her wealth or savings
2. A borrower: a party who is unable to secure a loan from a bank or prefers to borrow from a private lender for any particular reason
3. A ton of paperwork.
All you need to bring to the table is the first component, and we will take care of the rest. So, contact us today to widen your portfolio through a safe and guaranteed option of investment.
---